:: From NY to PA ::
Philly STAND UP!!! On our 3rd day of the New MC's post we move from New York, one state south to Pennsylvania.


First up from Philly we got this kid Cyssero A.K.A Rockstar. I first heard this guy spit on those "2 Raw For The Streets" Dvd's, battle mofo's and straight killin them. Apparently, Cyssero got his break when he snuck backstage at one of The Game's concerts, went right up to the man and started spittin lyrics. Well word is that Game was feelin him SO much that he got up and threw his Blackwallstreet chain on Cyss and said welcome to the fam. One thing I can say is this kid's got lyrics and can battle, but only time will tell if he can be one of the few MC's who can switch over from the battle rap scene to the LP's.
Cyssero
Pass: music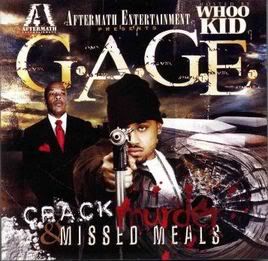 Another Philly MC we all must look out for his this cat G.A.G.E. The next protege of the good Dr. Dre, G.A.G.E. is reppin his new Aftermath home to the fullest. This mixtape is the first I ever heard of him, but if he consistently lays down music like this then I'ma definately keep checkin for him. With Dre hookin up the beats its pretty hard not to produce bangaz, but once again only time will tell if this MC can fill the shoes of those before him (The Game, 50 Cent, Eminem, Snoop Dogg).
G.A.G.E
Pass: biggest
Check back tomorrow when we be gettin blown over to the windy city...Chi-Town Wut up!!