:: New Faces Of NYC ::
Continuin on as promised, here are my next 2 MC's to watch out for in 2k6.
**EDIT: I've been requested to publish all passwords for the files as my "advertising trick" doesn't seem to rub too well with the visitors. To tell you the truth, if leechin ass ppl would show some thanks to ppl who post these links then that sh*t wouldnt be necessary. If you like my blog give propz & visit some ads, if you don't or have a problem with the way I do things, f&ck off and go find somewhere else to leech**
Bringing back good old New York hip hop, nobody rep's their set quite like Papoose. "I got Staten Island on my pinky, Queens on my thumb dude, the Bronx on my middle finger screamin F&CK YOU, rock ice in Manhattan so there's the ring finger, you know I had to keep Brooklyn on the trigger finger." By now you all heard of this cat from Busta's Touch It remix, but Papoose has been ALL over NYC droppin mixtapes like bombs with Kay Slay/Streetsweepers. Right now the kid is making so much dough offa his mixtape sales we have yet to see "Nacirema Dream" drop, hopefully soontime, maybe second quarter 06?
PAPOOSE
Pass: transferring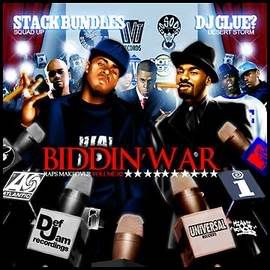 The fourth MC to check out is also reppin NYC and inked with a prominent New York DJ. Word on the wire, when Stack Bundles came on the seen EVERYONE wanted a piece of him, hence the name of this mixtape. After first signing with Arista and layin down tracks with Kanye, Stacks deal fell thru and was back on the streets, again choppin his tape. It wasn't long before Stacks and The Riot Squad got picked up by none other than DJ Clue, inking a deal with the Desert Storm Fam along side F-A-B.
Come check me out tomorrow when we fly from NYC to Philly!!!!!!
$tack$
Pass: Crank