:: The Ultimate Boot Camp Clik Post ::
This is the ULTIMATE Boot Camp Clik Post courtesy of The Bootis Connection...go tell ur friends cuz u ain't seeing anybody do it like this!!!!!!!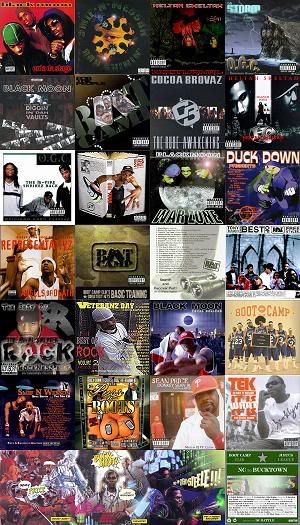 Arguably the GREATEST hip-hop super group of all time, the Boot Camp Clik have been doing it big since the early 90's. Consisting of 4 groups or 10 members (Black Moon: Buckshot, Evil Dee, 5ft.-- Smif-N-Wessun: Tek & Steele-- Heltah Skeltah: Ruck & Rock--O.G.C.: Starang Wondah, Louieville Sluggah, Top Dog) this is one super group without a weak link. Hailing from the birth place of hip hop, Brooklyn, NY, the B.C.C. have struggled to make it mainstream, but have gathered a cult-like following in the underground scene.
Over the past few years the group has seen many problems. Shortly after their critically acclaimed release, Dah Shinin', Smif N Wessun were sued by the gun company "Smith and Wesson" under copyright infringment for the use of their name. In '96 the group was forced to change their name and decided be known as the Cocoa Brovaz (terrible choice if u ask me). After a lengthy court battle, Tek & Steele beat the gun company and once again became Smif N Wessun in 2005.
Following harsh reviews from their sophomore LP, Magnum Force, Heltah Skeltah member Rock, left his partner Ruck and the entire Boot Camp fam to pursue his solo career, sighting creative differences with the promotion and production of past BCC efforts. It seems like Rock has come to his senses and rejoined the group, since he has been recording for the upcoming album, The Last Stand, which is scheduled for release later this year.
After coming strong in the '05 with the triple threat package (Monkey Barz, Chemistry, Reloaded) I can't wait to see what happens in '06 with the whole camp back together again....Keep a look out!!!!!!!!
Pass 4 All: www.bootisconnex.blogspot.com
Boot Camp Clik
1997 - For The People
2000 - Basic Training: Greatest Hits
2002 - Search & Recover Pt. 1
2002 - Best of BCC Freestyles: Mixed By Tony Touch
2003 - The Chosen Few
2004 - Puss 'N' Boots Soundtrack
2006 - BCC & Justus League: NC To Bucktown
Black Moon
1993 - Enta Da Stage
1996 - Diggin' In Da Vaults
1999 - War Zone
1999 - Buckshot: The BDI Thug
2003 - Total Eclipse
2005 - Buckshot & 9th Wonder: Chemistry
Smif 'N' Wessun
1995 - Dah Shinin'
1998 - The Rude Awakening
2004 - Still Shinin'
2005 - Tek - It Is What It Is
2005 - Tek & Steele: Reloaded
Heltah Skeltah
1996 - Nocturnal
1998 - Magnum Force
2002 - Rock aka Rockness Monsta - The Awol Soldier
2002 - Rock aka Rockness Monsta - Veteranz Day
2005 - Ruck aka Sean Price - Donkey Sean Jr.
2005 - Ruck aka Sean Price - Monkey Barz
O.G.C.
1996 - Da Storm
1999 - The M-Pire Shrikez Back
Affiliates
1999 - Duck Down: The Compilation
1999 - Representativz: Angels of Death