:: Tragedy Khadafi Discography ::
From the Queensbridge O.G. who kick started careers of Capone N Noreaga, I bring to you the discography of Tragedy Khadafi a.k.a The Intelligent Hoodlum. Back in the 1980's, a young cat by the name of Percy Chapman began rhymin on the block and straight killin n*ggas. Before long, this kid was catchin the attention of legendary producer and Juice Crew member, Marley Marl. Once hooked up with Marley, Percy Chapman began rhyming under the moniker, The Intelligent Hoodlum, and released 2 albums in the early 90's; Intelligent Hoodlum & Saga Of A Hoodlum. Although it took an 8 year hiatus between Saga of a Hoodlum and the original Thug Matrix album, Trag was busy developing the talents of many QB artists. Many of times Trag worked with Mobb Deep, but he's most known for basically giving birth to the careers of Capone N Noreaga. If you got the War Report, then you know how that album is flooded with Trag, both rhymin and on the production side. However, just before the release of the War Report, Capone was sent to prison and the relationship between Trag and Nore took a turn for the worst. Im not gonna get into that whole hoopla, but all Ill say is this, Trag would murder Nore anyday of the week, both lyrically and physically.

I gotta send out a huge propz to Speakeasy Sounds for droppin most of these...Thx for coming thru AGAIN...and to the rest of you I hope you enjoy this drop...Tragedy Khadafi is one of the best to come out of QB!!
1990 - Intelligent Hoodlum
1993 - Saga Of A Hoodlum
2001 - Thug Matrix
2001 - Against All Odds
2003 - Still Reportin
2005 - Thug Matrix-Retail
2005 - Q.U. Soldier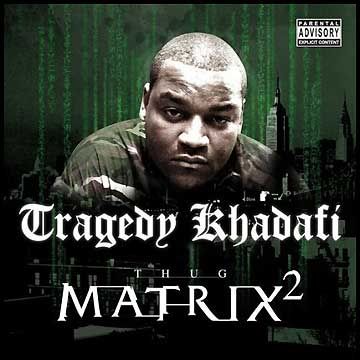 2006 - Thug Matrix 2
2006 - Blood Ballads