:: Boot Camp Clik - The Last Stand (Advance) ::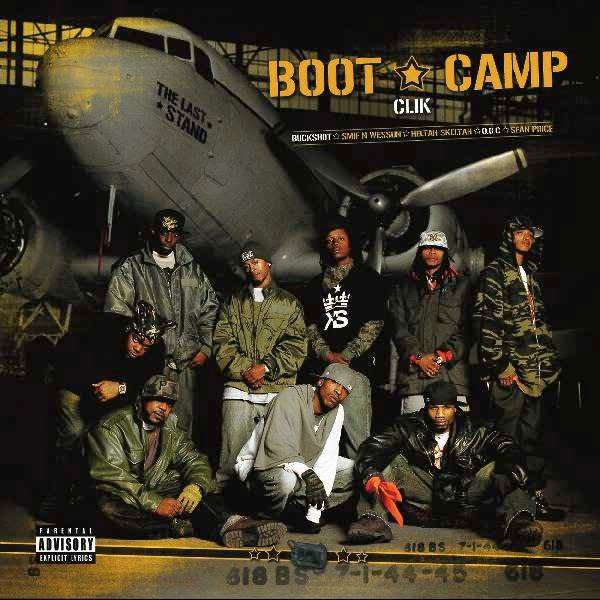 OH MY GOD!!! I can't even tell you how excited I am about this album. Don't EVER say Bootis doesnt connect you with some of the best new, old and pre-released ISHH. The Boot Camp Clik is back in full effect with all the original Great 8 members (Buckshot, Tek, Steele, Louieville Sluggah, Top Dogg, Starang Wondah, Ruck, and the return of ROCK!!!). Now, before we go further I must advise you all that this is an ADVANCE copy and not the retail...the difference being, this copy has some cat saying "Duck Down Records Presents The Boot Camp Clik, The Last Stand July 18, 2006" during some of the tracks....so for all you diehards out there, this will keep you goin and wet those appetites til the official release date.

The post before this I complained about MC's half assin their albums and not droppin 'em full of hot ishh; however, Boot Camp has NEVER been such a group to do so and this album is further evidence. Stickin with what works, the BCC follows their consistent head nodding super clean NYC style production, along with crazy ass lyrics. The only thing really that seperates this BCC joint from others, is that they recruited a variety of producers rather than 'Da Beatminerz" exclusively producing. While Da Beatminerz do hold it down on a regular, I think it was a smart moveto bring in a little twist. The Last Stand boasts production from the one and only 9th Wonder, Pete Rock, Ill Mind, Large Professor, Marco Polo, of course Da Beatminerz, as well as others.

On the track 'Let's Go' Buckshot sets it off reppin for 2Pac and lettin us know that he hasn't lost his touch and the BCC is always gonna pop off with the realness, "We stomp through, so many rap wars and rap awards, Boot Camp Clik been on your front line blastin off, and hardly got props for it, I saw it, even though we never got big we never stopped short, Pac saw it that's why he called us, to form ONE NATION on the world to see more of us."

Fortunately, this album WILL NOT go mainstream, and while these 8 great MC's won't see the financial gains like the 50 cent's and the other homo rappers out there, they will always get the props and support from the real hip hop heads who appreciate GOOD hip hop...note to all up and coming MC's...not every rhyme has to be about money, hoes and murder...you can make an ill track through metaphor, intellect, poetry and always some good old comedy/shit talkin.

Boot Camp has always repped hard for NYC and now is a better time than ever for this kinda joint to drop cuz New York MC's have to bring the art back and start doing it big the way it was in the golden years of the 90's.
Tracklist:
01) Here We Come [Produced by 9th Wonder]
02) Let's Go [Produced by Illmind]
03) Yeah [Produced by Marco Polo]
04) Hate All You Want [Produced by Marco Polo]
05) Don't You Cross The Line [Produced by SIC Beats]
06) 1-2-3 [Produced by Pete Rock]
07) Take A Look In The Mirror [Produced by 9th Wonder]
08) He Gave His Life [Produced by Marco Polo]
09) Trading Places [Produced by Ken BB]
10) But Tha Game Iz Still Tha Same [Produced by Da Beatminerz]
11) So Focused [Produced by 9th Wonder]
12) Everybody Knows Now [Produced by Coptic]
13) World Wide BCC [Produced by Large Professor]
14) Souljah [Produced by Attic]


BOOTCAMP
Pass: www.bootisconnex.blogspot.com