:: The Ultimate Onyx Post ::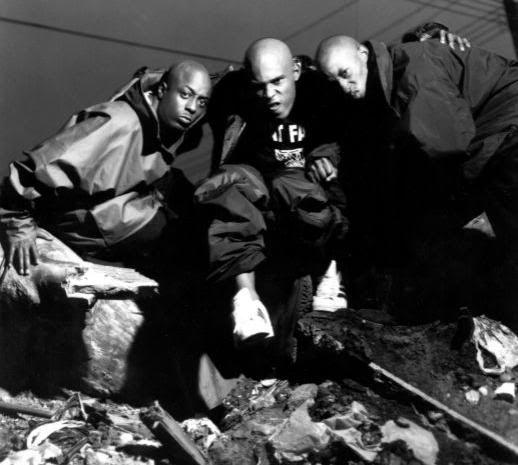 It's been a while since the last Ultimate post so I figured I'd throw out one of my fav groups of the early 90's. Onyx is a hardcore rap group which formed in 1989 with members: Fredro Starr, Sonee Seeza, and Big DS. In 93 the group added Sticky Fingaz, perhaps the most prominent of the group as well as Fredro's cousin, and signed with the late Jam Master Jay to his JMJ records. Their first album, Bacdafucup, was definately their most commercially successful release, took only one month to go platinum (if you remember correctly back in the early 90's it wasnt that easy sell 1 million as a rapper/group). With club anthems like "Slam" and "Throw Ya Gunz," the bald headed bastards made a name for themselves both in the streets with the thugs, as well as in the clubs with all the party-goers. The follow up to their critically acclaimed debut met with some harsh criticism. In my opinion All We Got Iz Us was the best Onyx album ever, however critics werent feelin the darker, more violent and graphic nature of the lyrics. After the release of Shut Em Down, the group split, leaving their record label, Def Jam, and began persuing solo careers in music and movies (Sticky Fingaz and Fredro). Onyx came back together in '02 to drop another LP, however, in '03, they suffered the loss of founding member Big DS, and while he was only featured on a few tracks off Bacadafucup and none after, Big DS played a pivotal role in the early years.

With the last 2 releases, Bacadafucup II & Triggernometry, being poor in sales as well as quality, I'm hopin that they can bounce back in 2006 with "The Black Rock." Also look out for X-1, Sticky's brother. He was featured a little on Shut Em Down, as well as, Sticky's solo joints, but yo this kid is like the long lost 4th member of the crew.
Pass 4 All: www.bootisconnex.blogspot.com

1993 - Bacdafucup

1995 - All We Got Iz Us

1998 - Shut 'Em Down

2000 - Blacktrash: The Autobiography of Kirk Jones (Sticky Fingaz Solo Joint) & Pt. II

2001 - Firestarr (Fredro Solo Joint)

2002 - Bacdafucup Part II

2003 - Decade (Sticky Fingaz Solo Joint)

2003 - Don't Get Mad, Get Money (Fredro Solo Joint)

2003 - Triggernometry